Don't Forget 11th January & To Watch Pakistani Film Gumm in Local Cinemas of Pakistan
Pakistani film industry is working on many new projects and introducing excellent performances via those projects. As this year is started now and many projects would be released in this year. The first film by Pakistan Entertainment Industry is
Gumm
that is scheduled to release on
January 11, 2019
. Pakistani Film Gumm will be the first local film of the year that will be released in around 90 cinemas nationwide. This film includes high action, crime and thriller produced by
Shakeel Anjum
and directed by
Ammar Lasani
and
Kanza Zia
, who have also written it. The cast features actors
Shamoon Abbasi
,
Shameen Khan
,
Sami Khan
and others. Gumm Film has already been presented at international film festivals and received more than
15 nominations
and
7 awards
(three for Best Screenplay, two for Best Actor (Sami), one for Best Director and another for Best Editor). Major part of Gumm's shooting is done in Margalla, Islamabad and the surrounding areas by following international demands and standards and modern technology usage. Gumm Film is for all people of all ages, so you can watch it with your whole family. Don't miss to watch Gumm Film on January 11, 2019 in local cinemas of Pakistan. The other details about this film are described below.
All about Upcoming Film Gumm
Here is one more entertainment project ready for release across the Pakistan named Gumm. This film is set to release on January 11, 2019 in cinemas of all around the country. The Film Gumm would be the 1st local film of this year to be released in around 90 cinemas nationwide. The interesting thing is that this is the first Pakistani film of year 2019 and we are hoping well for its release. Gumm is an action, crime and thriller movie including more drama and interesting roles of actors.
Cast & Crew
This film has been produced by Shakeel Anjum and directed by Ammar Lasani and Kanza Zia, and the writers are also same. The main cast actors are these:
Shamoon Abbasi
Shameen Khan
Sami Khan
The film story revolves around a wanted criminal and a father who are connected to one another via some unfortunate events. There is crime, action, thriller and comedy also in this film.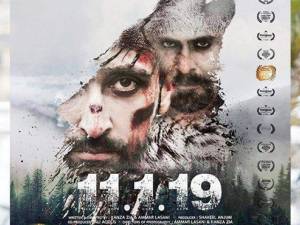 Pakistani Film Makers are also working on
The Legend of Maula Jatt Film by
Bilal Lashari
and this film would release on June 2019. The trailer is very exciting and liked by many people not in Pakistan but also by the Bollywood Actors & Producers.
The most interesting thing about this film is that Gumm film has already been presented at
international film festivals
and received over
15 nominations
and
7 awards
. It got 3 awards for Best Screenplay, 2 awards for Best Actor (Sami), one for Best Director and another award for Best Editor. Now the film makers also hoping for the same response in Pakistan.
More about Pakistani Film Gumm
Most of the shooting of Gumm Film is done in
Margalla, Islamabad
and other surrounding areas. The production is done by competing the international demands and standards via modern technology.
Now, this film is ready to release on
January 11, 2019
in all local cinemas across the country. It would really a good movie of this year including much action and thrill so, don't forget the date of 11 January and watch this film in Pakistani cinemas.